Source : Pixabay
Diseases like hypertension used to pose a great danger to people in the past, especially obese people. There was no way of knowing when the blood pressure was about to go berserk. People had to be rushed to the nearest hospital to determine what had gone wrong. That is a thing of the past now, thanks to great advancement in medical and mobile app technologies.
Several high blood pressure monitors in the market are highly regarded by doctors and patients alike for their efficiency and accuracy. To come up with this exhaustive list for you, we used some parameters to determine the monitors that make it and those that do not.
How We Arrived at Our Picks
With a lot of options available to pick from, we used the following factors to make the work much easier for you, the reader:
Blood pressure monitors are supposed to be simple with an easy to navigate interface. The reason for their existence was to make things simpler for patients, allowing them to operate them without help from a doctor. The simplicity of the interface was the first factor we considered for this list.
Accuracy is the most crucial aspect of a blood pressure monitor. Without the presence of a doctor, the device has to cover for that handicap by providing the correct measurement. Inaccurate monitors are risky as they can lead to a misdiagnosis.
Monitors that come with memory storage allow you to store all the blood pressure readings that you take over a period of time. This enables you to determine whether you are improving or getting worse.
The Best BP Monitors in the Market Right Now
Greater Goods BP Monitor: Best Overall
The Greater Good BP Monitor is ranked overall best because of its decent accuracy, versatility, and ease of use. It has a large backlit display that employs the use of clear and sharp fonts legible even for those that have eyesight issues.
It also comes with a comfortable arm cuff that can handle arm circumferences of up to 16.5 inches. The monitor comes with a carrying bag that has specific pockets for the accompanying accessories making it easy to carry around. The Greater Goods BP Monitor costs $55
Omron Platinum: The Most Accurate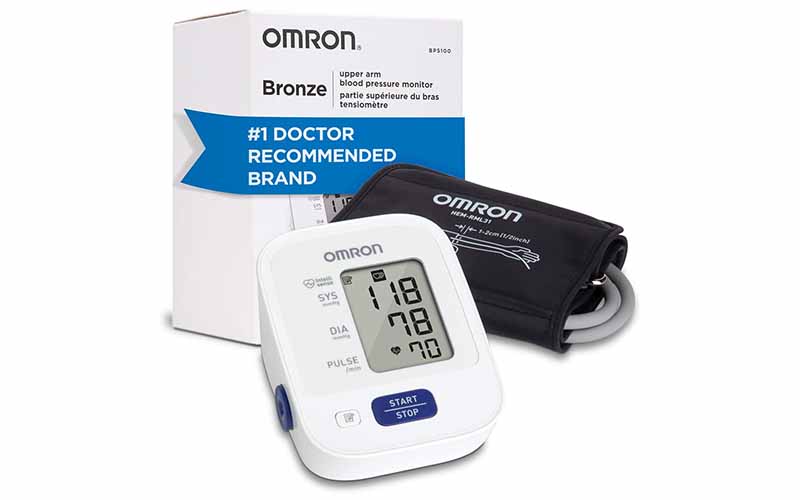 Omron BP monitors are known and widely used by medical practitioners all over the world. A product of Omron Healthcare, a Canadian company, the device is considered to be the most accurate of all digital blood pressure monitors in existence. And because of that, they do not come cheap.
Costing about $75, Omron Platinum is a powerful machine that packs impressive storage and an off-the-chart accuracy that would make any doctor smile. It comes equipped with TruRead technology and Advanced Averaging, the two features that are responsible for its precise readings. On top of that, there is a mobile app that a user can sync with for a better experience.
PulseWave Blood Pressure Monitor: Most Technologically Advanced
This is an advanced blood pressure monitor from Raycome that employs some of the latest medical technologies around for this marvel of a device. The PusleWave monitor uses patented dual-balloons and sensor technology combined with continuous measurement of multi-point pressures to attain the highest accuracy levels possible. It is the type of device that you want lying next to your bedside.
When it comes to getting your money's worth, then Beurer BM26 is the one device you should be splashing on right now. Costing a modest $30, it is easy to dismiss the device as inferior, a miscalculated mistake. The Beurer BM26 can track blood pressure for up to 4 users, without the use of a mobile app, quite a rare feat. Each of the four users can have a maximum of 30 readings.
When it comes to accuracy, the monitor uses the basic averaging principle that takes account of all the readings made in 24hrs to present the best data.
Withings BPM Connect: Most Portable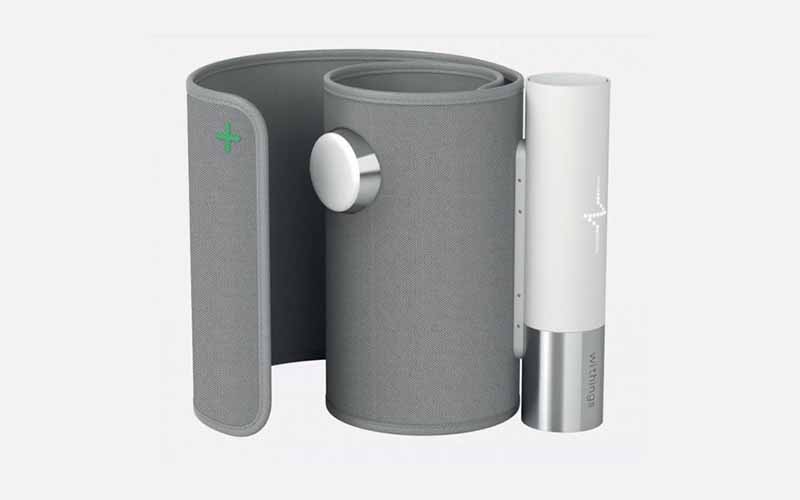 Convenience is one of the underlying factors that contributed to the invention of digital blood pressure monitors. There is nothing that embodies that more than portability. The Withings BPM Connect is a little compact device that looks nothing like a BP monitor. At first glance, it resembles a tiny Bluetooth speaker, but do not let appearances fool you.
It is very easy to use, can connect to a mobile app, and has a rechargeable battery that can last for a week. It has Bluetooth and Wi-Fi connectivity that allows you to store all your readings to cloud storage on the go, making the need for internal storage obsolete. However, all these features come at a price, $100, to be exact.
LifeSource: Best Cuff Size Options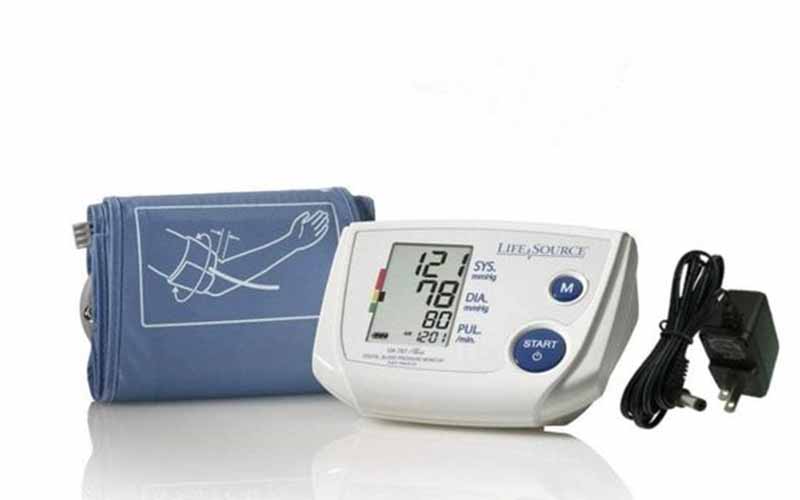 As much as the design of the central BP monitor itself is important, The cuffs that take the actual measurements are equally crucial. When it comes to cuff size options, the LifeSource blood pressure monitor takes the cake. It has cuff sizes for all types of people, big and small. Their largest cuff sizes range between 16.5 inches to 23.6 inches.
Another added advantage to this amazing device is its accuracy; it can detect irregular heartbeats, giving you ample warning to do something about it. On the budget side, however, the LifeSource device does not play nice, it costs a whopping $120. There is a LifeSource version that comes with cuffs for slender arms. It costs about $73.
iProven Wrist BP Monitor Watch: Best Wrist Monitor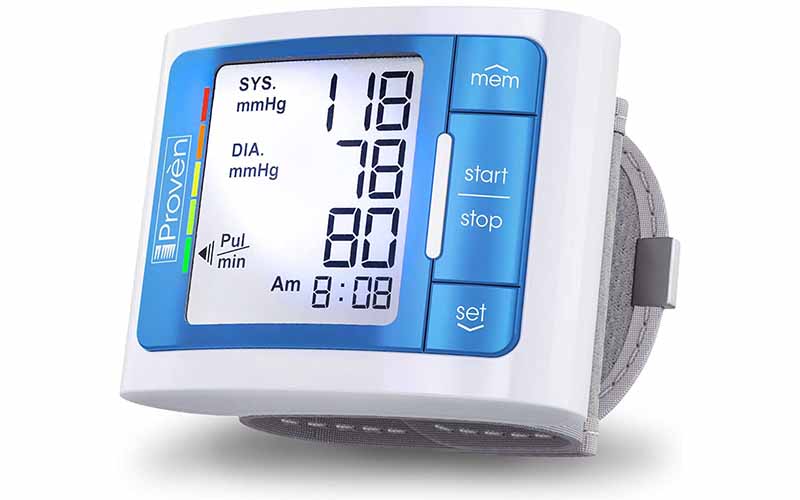 This is the only wrist BP monitor on the list, one that is considered the best in 2020. It is a small machine that is also extremely fast, being able to post readings within 30 seconds. It can accommodate about 60 readings, and it is small enough to even fit in the pockets of your pants. Before using it, you are advised to remove wristwatches and any other kind of jewelry for the best results. The iProven Wrist BP monitor costs about $20.
A&D Upper Arm BP Monitor: Best Multi-User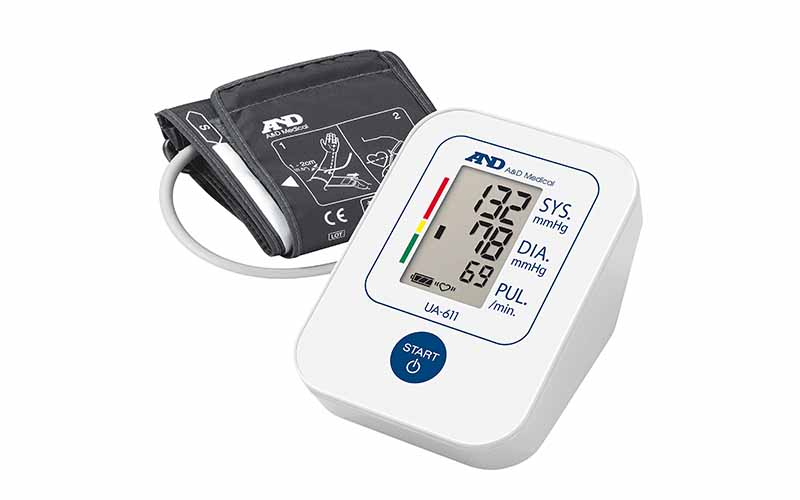 The A&D Upper Arm BP Monitor is a simple yet effective multi-user device that has received excellent reviews from people who have used it. It can hold 60 readings for each of the users it can handle, that's a total of 240 readings if you choose to use the device all for yourself. It is very reliable with useful features like cuff-fit error alerts and body movement sensors.
These are the best blood pressure monitors in the market right now. More are being released into the market every year by major blood pressure monitor manufacturing companies. With obesity still on the rise, the demand for home blood pressure kits is only going to increase. If you have been looking for one yourself, you can start with the ones mentioned above and find the one that suits you best.
https://www.raycome.com/wp-content/uploads/2020/08/37.jpg
500
800
administrator
https://www.raycome.com/wp-content/uploads/2020/02/LOGO.png
administrator
2021-01-19 01:14:10
2021-01-21 09:52:55
Best Blood Pressure Monitors in 2020