Hypertension is often referred to as a 'silent killer'. It exhibits covert symptoms that could go be misconstrued and go unattended until you are in critical condition. This is why, if you suffer from hypertension or BP-related ailments like heart disease, vigilant monitoring of your BP is vital.
In the past, you would have to visit a hospital to have your BP taken on a professional blood pressure machine. Thankfully, with the invention of BP monitors for home use that is no longer the case. This has, however, presented a new dilemma; with so many blood pressure monitor manufacturers in the market, how do you choose the right home-use apparatus for your needs?
To help you make an informed choice, here are the best blood pressure monitors for home use in 2020.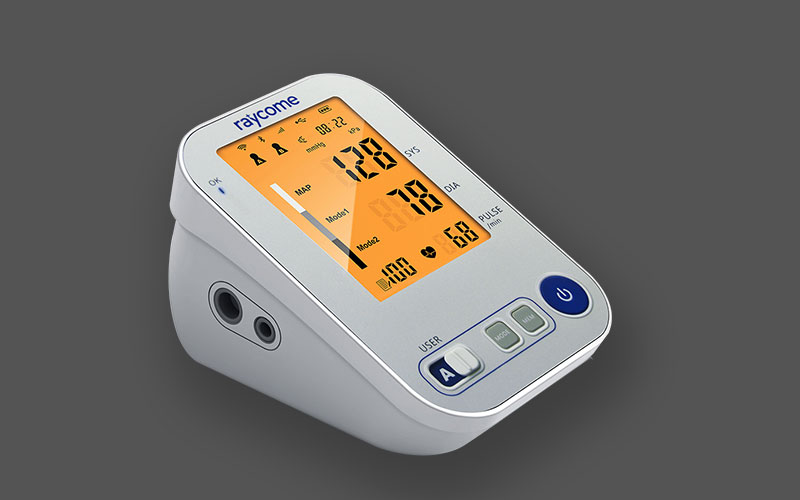 The Raycome RBP-9805 is a digital upper-arm blood pressure monitor designed for home use. It has a sizable display screen and an arm chef that can be adjusted between 23-32cm. The device supports 2 user-profiles and can store 50 sets of BP readings for each of them. The data can be transferred wirelessly to other smart devices via Bluetooth or cloud service.
The verified accuracy of the RBP-9805 is +/-2mmHg. During readings, a human voice reminder will guide you throughout the process to ensure you get the right BP measurement. Further, the device uses patented Pulsewave dual-balloon/sensor technology that is more accurate than single balloon/sensor technology.
Recommended for: Regular, user-friendly home BP monitoring.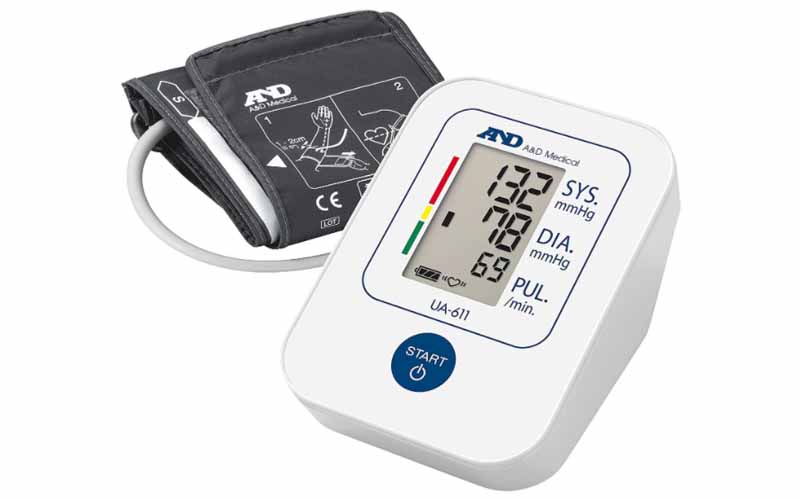 The A&D upper arm home-use BP monitor comes in a portable case and comprises a digital unit with a screen and an arm cuff. The circumference of the arm cuff is quite generous as it accommodates arm circumferences of 23-37 cm. It is also both latex-free and metal-free just in case you are allergic to any of the two materials.
Each A&D upper arm blood pressure monitor can support 4 user profiles assigned storage space for 30 BP readings. It also has an irregular heartbeat indicator that will notify you of any unusual pulses during readings. Readings are taken using the oscillometric method.
Recommended for: Home use where multiple people share one device.
Unlike other monitors on this list, the Lakmus Pro is a wrist cuff blood pressure monitor. It is a compact portable design with a large LCD screen on the front and a wrist cuff behind it. It comes with a carrying case for safe storage.
The Lakmus Pro can store 90 sets of readings with dates and times for 1 user profile. It also has an irregular heartbeat indicator that picks up on unusual cardiac activity. The monitor should always be placed on the skin and there should be no other ornaments on the wrist during BP measurement. When not in use, the auto power-off feature will be activated to save battery power.
Recommended for: Anyone with unique reasons that make using an upper arm monitor challenge.
Important to note:
Wrist blood pressure monitors tend to give less accurate readings than upper arm BP monitors. The arteries in your wrist are thinner and nearer to the skin which makes readings from the area unsteady. Consider having your doctor check your wrist BP monitor and possibly calibrate it using a professional automatic blood pressure machine.
The Raycome RBP-88A is a portable and stylish upper arm blood pressure monitor for home use. It consists of a compact digital panel with a wearable arm cuff attached to it. The arm cuff circumference can stretch between 23-32cm.
This model is designed with travelers in mind and hence it has a USB port and quick-charging technology. Moreover, a single 2.5-hour charging session could last for up to 120 readings. If you are concerned about data storage, worry not. The device can store 90 sets of data for 1 user and is compatible with smart devices via Bluetooth.
BP measurements on this device are taken using exclusive Pulsewave technology that is lauded for its accuracy. You could also share your blood pressure data with your physician using the BP secretary app.
Recommended for: People who need a portable and accurate BP device that can be linked to their smart device.
When choosing a home BP monitor, user-experience is perhaps the most fundamental factor. Aim for a device that is accurate and requires no special calculations to interpret readings. Such complexities create room for error and are why even your physician may prefer a professional automatic blood pressure machine.
As evidenced by this list, there is a home blood pressure apparatus for just about every need. Now that you know the best picks, picking one should be much easier.
https://www.raycome.com/wp-content/uploads/2020/11/A-lady-measuring-her-blood-pressure.jpg
500
800
administrator
https://www.raycome.com/wp-content/uploads/2020/02/LOGO.png
administrator
2020-11-10 10:04:43
2021-01-22 01:24:48
Best Blood Pressure Monitor For Home Use (2020)