A sphygmomanometer is used to measure blood pressure. It is mainly found in hospitals where the doctors can accurately read your blood pressure measurements. However, you can learn how to measure your blood pressure accurately from home and get one for yourself. Many sphygmomanometer brands in the market offer different features on their products. Here are a few for you to consider;
The Paramed cuff assures you of quality and value for money spent. It comes with a universal cuff to ensure that it fits comfortably on everyone. It is also fitted with great velcro that helps keep it secure for an accurate reading. It comes with a pouch and is very lightweight to carry around.
You can expect great customer service from their customer care service. It is fast and customer-oriented. This blood pressure monitor also comes with a 30-day money-back guarantee in case it doesn't meet your expectations. 
You can invest in this aneroid sphygmomanometer for both homes and medical use.
ADC DIagnostix is a great blood pressure monitor that makes it easier to use. It comes with a one-handed air release valve that helps you control how much air you let out and how fast. This blood pressure monitor is very easy to use and assemble right from the packaging. It comes with a size guide to help you take your measurements accurately. Check out aneroid sphygmomanometer suppliers and inquire about it. 
This is another great sphygmomanometer for you to consider. These sphygmomanometer manufacturers promise a 2-year inflation system warranty and a lifetime calibration warranty. This makes it a great investment especially if you're thinking to buy something that will last you for a few years. With such a deal you can invest without any worries of it being spoilt.
This sphygmomanometer was made to be used mainly in the hospital by professionals who understand how to handle manual monitors. This particular monitor is designed in a completely different way. The gauge is attached to the bulb using a metal strip that acts as a handle. This handle is useful to ensure you avoid any shaking that could interfere with your blood pressure results.
EMI sphygmomanometers are very affordable and ideal for students and those looking to invest in something inexpensive. It comes with a precision fitted manometer and gauge to ensure accuracy. It also features 2 adult bladders to facilitate the efficient flow of air.
The cuff comes in a durable nylon material with markings that you can adjust accordingly for an accurate assessment. It also comes with a storage bag to help take care of it and clean it when not in use.
MDF instruments are mostly preferred by professionals. This is because the products are not only long-lasting but also come with an offer of a lifetime calibration. It is also quite efficient and will give you accurate measurements when used right.
Raycome's sphygmomanometer comes with an amazing feature that is not found in any of the others. These monitors use sensor technology to detect pulse waves. The upper airbags work as pumps and the lower airbags are used as stethoscopes. All that in one device. Amazing right? Raycome is a well known BP machine company that provides products that are of high quality and stable. They also make sure you are safe by using mercury pollution-free products. These devices come with a one year warranty and assure you of accurate readings every time.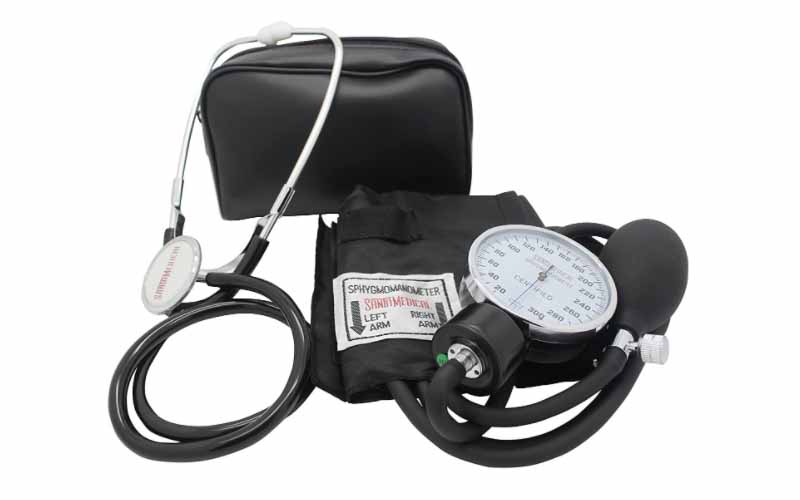 The Santa medical sphygmomanometer is a budget-friendly blood pressure monitor that will not fail you. It comes with a cuff that is resistant to moisture, abrasions, and chemicals. This makes it last longer to serve you.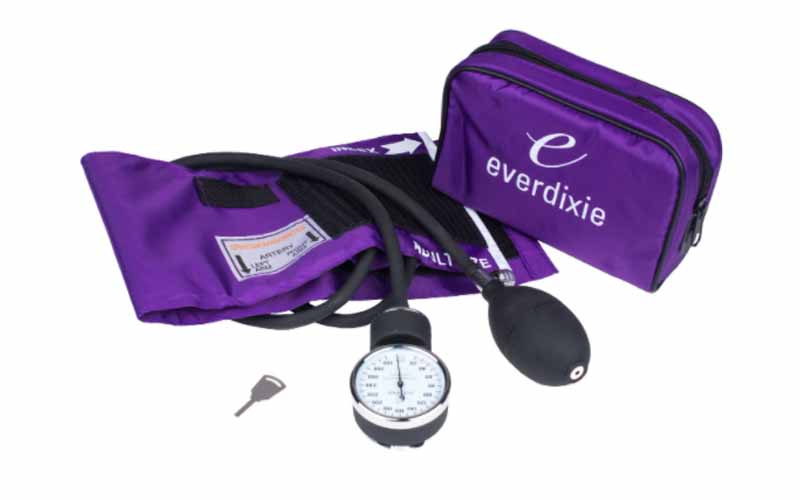 This sphygmomanometer is cheaper than the rest and is used mainly by students at the start of their medical practice. It helps them get acquainted with the in and outs of measuring blood pressure without first investing inexpensive gear. It comes with a strong velcro that will allow for accurate measurements.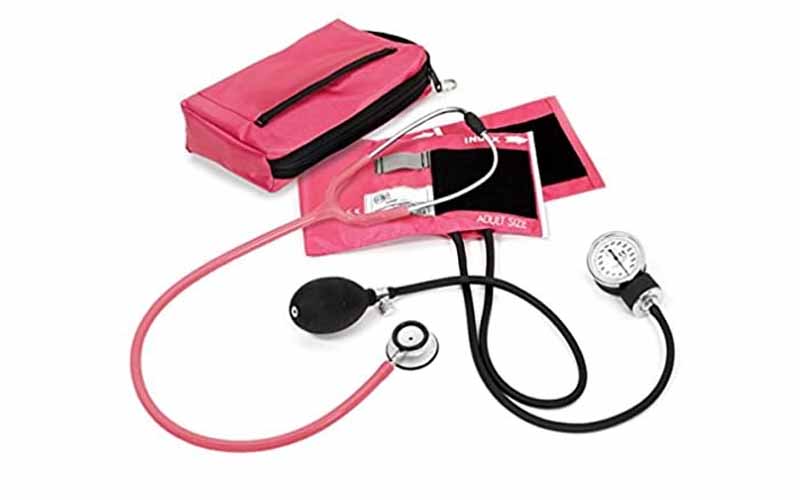 The Prestige Medical Aneroid sphygmomanometer is a unique one because it comes in wide varieties. You can order different colors and patterns to accommodate the different people you attend to. The cuff features an index, range of markings, and an artery indicator marking. All of this will help enhance accuracy. 
This sphygmomanometer comes as a kit, with the blood pressure monitor and a stethoscope. Although the stethoscope may not be the best quality it will get the basics done. 
When it comes to deciding which sphygmomanometer you should buy, remember you're spoilt for choice. Just consider the sphygmomanometer cost, your experience, and durability then you'll make the right choice.
Also Read:
https://www.raycome.com/wp-content/uploads/2020/09/Sphygmomanometer.jpg
500
800
administrator
https://www.raycome.com/wp-content/uploads/2020/02/LOGO.png
administrator
2020-09-30 11:13:09
2021-01-22 01:30:13
A Guide to the Best Sphygmomanometers for Medical Use