It would not be too far-fetched at all to refer to digital blood pressure monitors as one of the most innovative technological creations in the medical world in the last two decades. They have transformed how people deal with hypertension with very positive results. In the past, manual blood pressure monitors were all we had, and that required a doctor to be present.
With digital BP monitors, all you need is a manual, and you are good to go. With the demand for them on the rise, many BP apparatus companies are releasing newer and better versions every day. This broad array of choices can be a little too much for the consumer trying to decide the one to go for, putting in mind all the factors you have to consider first. To make your search easier, here is a detailed compilation of the best digital blood pressure monitors in the market right now.
PulseWave Blood Pressure Monitor
The PulseWave blood pressure monitor is a product of a company called Raycome that is renowned for its high-tech medical devices. This an innovative technology (not Oscillometric method), using dual-balloons/sensors technology (instead of other single balloons/sensor ordinary digital blood pressure devices) and continuous measurement of multi-point pressure between pulses to achieve the most accurate measurement during the record of the accurate real state of blood flow. It was called the most accurate BP device. A rechargeable Lithium battery saves costs for users.
The device is used in over 40 countries across the world, proof that it is reliable even among doctors.
CareTouch is a wrist-cuff blood pressure monitor with an accuracy of about +3mmHg, which is pretty decent for this type of machine. It has a clear LED display that is backlit and shows readings in beautiful and legible fonts, visible even when in sunlight. The device also has a tracker that keeps tabs on the heartbeat, sending alerts once it detects an irregular one. 
The memory storage can store up to 60 readings, which, although not as big as it should be, can store enough data that can be used for a full diagnosis. The device takes about 60 seconds to take the blood pressure and present the results.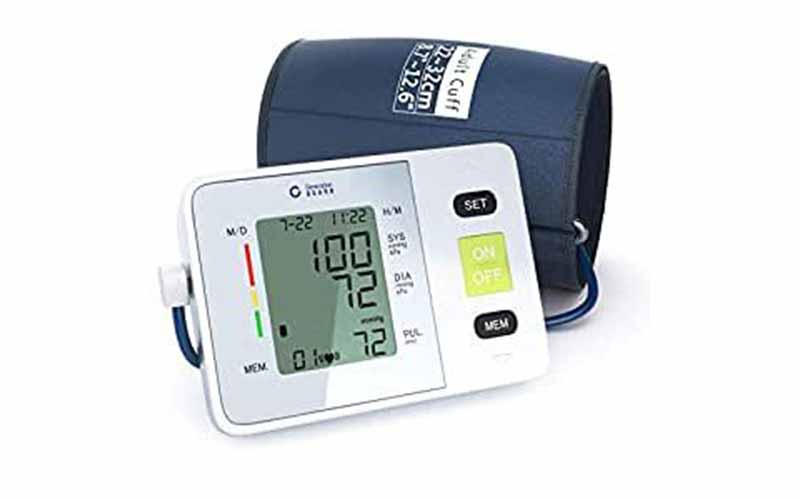 Generation Guard is an arm-cuff BP monitor that has a straightforward design and a size that allows it to be carried around without feeling the weight. The device is best positioned about 2.5 cm from the elbow for the best results. It functions by taking account of the systolic and diastolic blood pressure readings on top of keeping tabs on irregular heartbeat patterns.
It comes laden with a large display screen, a carrying case, and its own set of batteries. It can store up to 90 readings.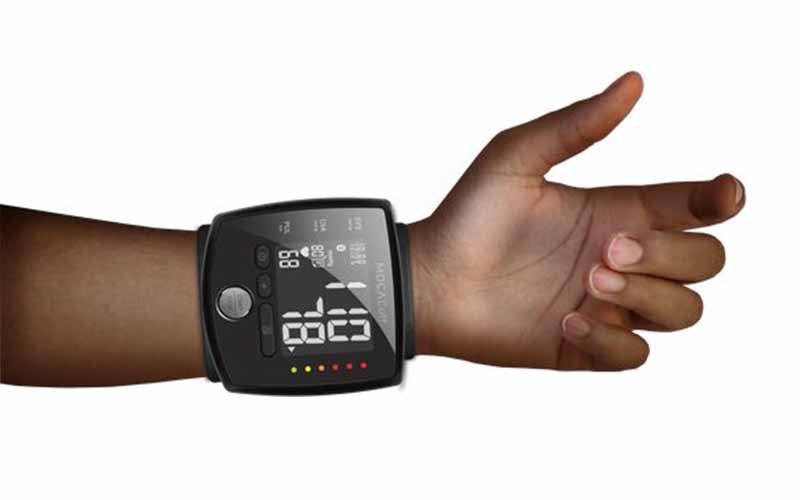 MOCACuff is another wrist monitor that is, without doubt, the most stylish in the whole list. The device that usually comes in black works differently than other monitors. Instead of squeezing the wrist, it measures the blood pressure when the user simply wears it like a watch, nothing more. For this reason, they are more comfortable to use since many people do not like the feeling of their arms and wrists getting squeezed that hard.
It can store up to 99 readings and can be linked to a mobile app through Bluetooth connectivity. MOCACuff can also detect an irregular heartbeat and even has a color-coded indicator that flashes different colors if anything is wrong.
HealthSmart is a wrist blood pressure monitor that is a product of the HealthSmart company. With a storage capacity of 120 readings, the device is quite good for a wrist monitor since many do not come with enough memory. To boost its accuracy, the machine uses the averaging technique where it combines your last three readings before displaying the conclusive result.
It comes with a large backlit screen that is clear enough, thanks to its high-contrast feature. On top of keeping track of your heart rate, the device also measures the systolic and diastolic pressure of the blood.
It has a digital clock and a calendar on the screen for the user's convenience as well as a voice function that can either be set for English or Spanish.
Welch Allyn is an arm-cuff blood pressure monitor that is among the most popular in the United States. It is estimated that 9 out of every 10 doctors use it in their daily measurements of patients in their hospitals. So what exactly makes it such a hit? First is the speed; it takes only about 30 seconds for the monitor to collect all the necessary data and display it.
Secondly, you can share the data instantly to your doctor or your family members through a mobile app. The cuff is also adjustable, making it usable by people with more massive arms. Lastly, it only has a single button for all functions making it easy to operate.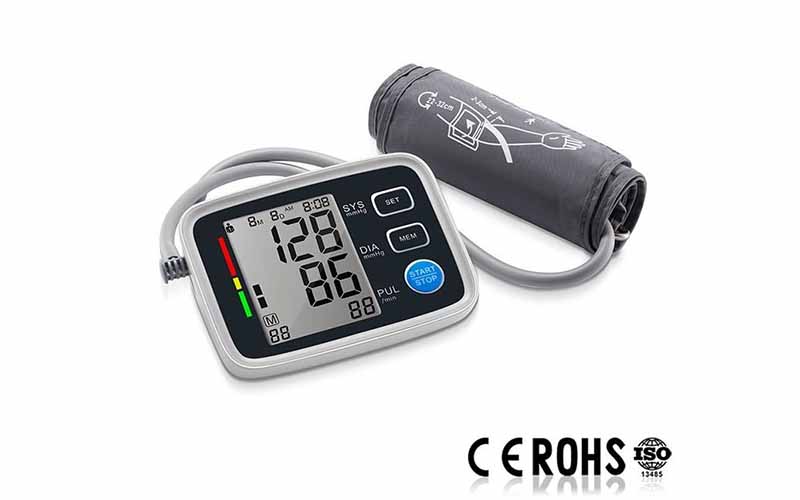 Another arm-cuff BP monitor that can be best described as the ultimate home use monitor in the market. BloodPressureX can be used multiple times in a single day to take as many readings as possible. This allows you to determine your blood pressure trend, giving you enough data to tell if you need medical attention or not.
It has a memory capacity of 180 readings, has a large display screen, and comes with its batteries as well as a direct line AC plug. It works by using the oscillometric method that entails the recording of rotations in the monitor cuff that is triggered by the oscillations of the blood flow.
Vive Precision Blood Pressure Monitor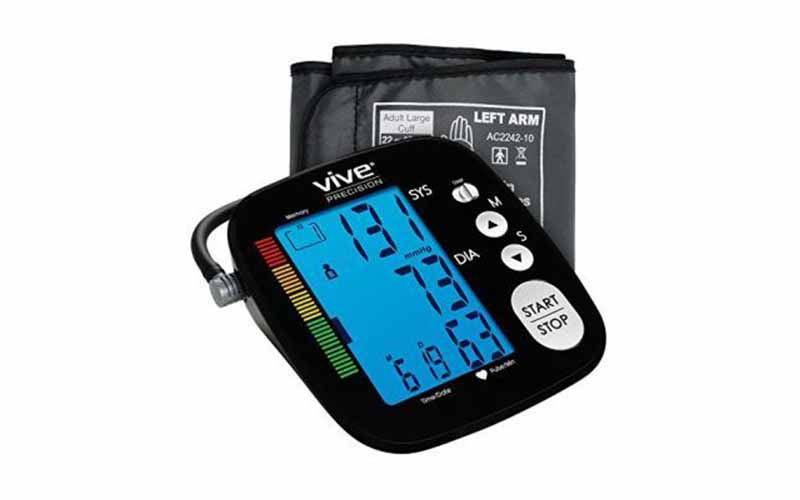 As far as storage capacity is concerned, this device is the king. With the capacity to store 500 readings, Vive Precision Blood Pressure Monitor is the ideal machine for taking prolonged readings that can be used to detect a trend. It comes with sizeable cuffs that can accommodate up to 16.5 inches of arm girth and has a very easy to use interface.
The device supports two users at 250 readings each, but it would serve you better if you use both options for yourself. The backlit display is big enough and displays readings in legible fonts.
Lot Fancy Blood Pressure Monitor
Lotfancy Blood Pressure Monitor is among the most economical devices you can come across. Despite its fair prices, it packs some top-of-the-range features like systolic and diastolic measurements that are integral for its general accuracy. It offers support for 4 users at 30 readings each and has an irregular heartbeat detector.
Balance Blood Pressure Monitor Kit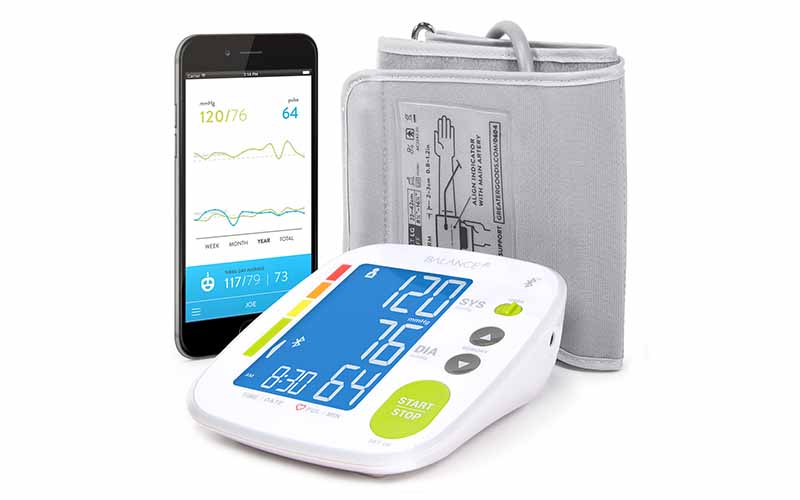 Balance Blood Pressure Monitor kit is a product by Greater Goods that has been highly rated by users around the world. It is an FDA-certified device that can support 2 users with 60 readings each. It uses batteries and an AC adapter as the power source, and it has pretty high accuracy levels.
Blood pressure monitors are getting better with time. They are becoming more versatile with functions that go beyond taking stock of the blood pressure. Now they can even detect irregular heartbeats and other physiological defects that may escape the attention of your doctor. It, therefore, goes without saying that acquiring one is a must.
As the COVID-19 pandemic rages on, people with hypertension have been found to be the most vulnerable to the disease, never before has the need for home blood pressure kits been this vital.
https://www.raycome.com/wp-content/uploads/2020/08/A-BPM-in-Use2.jpg
312
469
administrator
https://www.raycome.com/wp-content/uploads/2020/02/LOGO.png
administrator
2020-08-12 19:23:52
2021-07-13 02:44:38
Top 10 Digital Blood Pressure Monitors