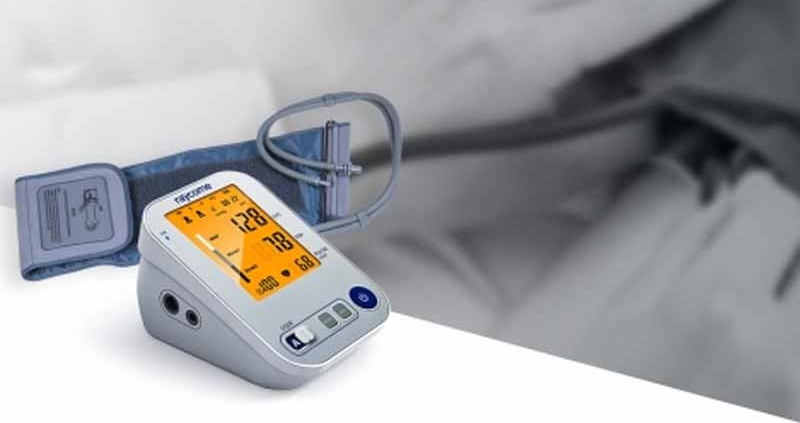 Based on the World Health Organization data, there are an estimated 1.13 billion people globally who have hypertension. This represents a huge chunk of the world population and puts hypertension up there among the most widespread medical conditions. The reasons why the cases are so widespread has a lot to do with factors like lifestyle habits.
It is for this reason that developments in the blood pressure monitor sector have been accelerating. The race to find ways to deal with hypertension has led many companies to come up with modern solutions. Raycome is among the trailblazers of blood pressure monitors manufacturers and has an impressive catalog of high-tech equipment designed to keep hypertension in check.
We are going to look into the blood pressure monitors under the Raycome name, how they work, and why they are better than their competitors.
Raycome PulseWave Technology and How It Works in BP Monitors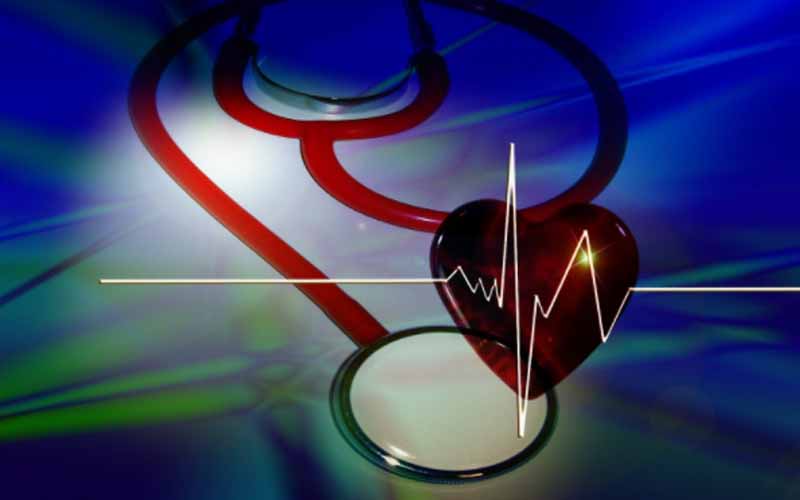 Among the many impressive innovations that Raycome has come up with, PulseWave Technology has left the biggest mark in the medical world. It is a technology that makes it easier for digital blood pressure to attain the highest accuracy when taking readings of the blood pressure.
Clinically, a pulse wave refers to the velocity at which the blood pressure moves through the circulatory system. It is the measure of how stiff the arteries get when they transport blood from one end to the next.
The naturally occurring pulse-wave is what forms the basis of how blood pressure monitors work. Once the device is clamped on the arm tightly, it is the pulse wave fluctuations that are being read to determine the blood pressure.
Raycome BP monitors have been able to use the pulse wave to create their own unique PulseWave technology.
Blood pressure monitors from Raycome record the Pulse Wave Velocity to correctly tell if the blood pressure is too high or too low. If the velocity is higher, then that is an indication that the blood pressure is higher too and vice versa.
The use of pulse wave velocity has been in use for years in the medical field as it is the most accurate method. Raycome monitors have managed to take that accuracy a step further by refining their own PulseWave technology.
Types of Raycome BP Machines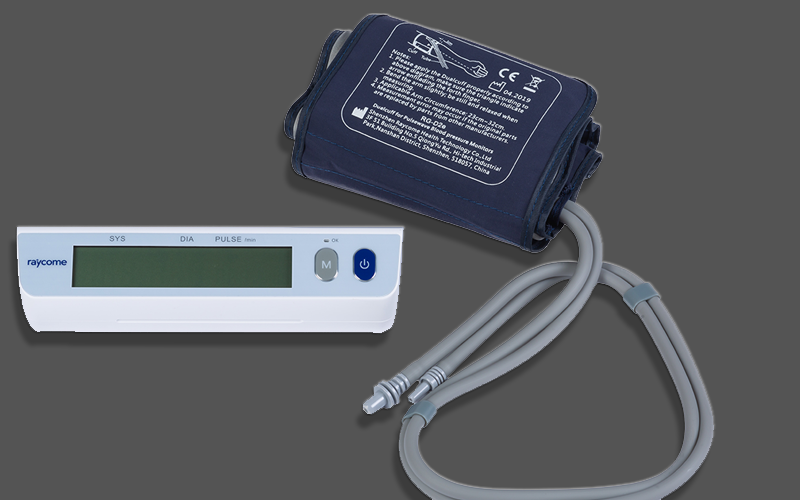 Raycome is home to the best digital bp monitor machines, each designed for a specific function and environment. They include the following.
Raycome hospital BP machines are designed for checking the blood pressure of patients in hospitals under the supervision of a physician. Their BP monitors are among the most trusted devices for most hospitals due to their accuracy and the ingenious PulseWave technology.
So far, there are three hospital BP monitors in their lineup that include the following.
A desk-top digital blood pressure monitor that uses PulseWave technology in combination with dual-balloon sensors to attain accurate readings with a ±2mmHg reliability score. The RBP 9000 has the following features;
It has an antibacterial design made up of a removable cuff cloth that can be cleaned and replaced after every use to avoid the spread of diseases as it comes into contact with skin.
It has a humanized feel to it thanks to a unique elbow button that can be used to adjust the arms position. The cuff can also be rotated horizontally for more comfortable reading.
It has a human voice reminder that belts out instructions to help users use it in the proper fashion.
It has memory storage of up to 100 sets.
Another desk-top based monitor that is a little smaller and less sophisticated than the RBP 9000. It also makes use of PulseWave technology as well as dual-balloon sensors. For better accuracy, it conducts a continuous measurement of multi-point pressures between pulses.
An antibacterial setup similar to the RBP 9000 with adjustable cuffs.
Its arm support circumference lies between 17-42cm with the ability to measure both hands independently.
It has data communication support that allows it to be connected to other machines like computers via a USB port.
It has an Intelligent Awakening feature that switches the monitor into a dormant state when it is not in use and then reactivates it automatically when someone comes close to it.
It has Bluetooth connectivity that allows it to be synced with the BP Secretary app.
Nurse-use BP monitors are special devices that are designed to be used by nurses when taking blood pressure readings from patients. They have an elongated rectangular shape that comes with a digital screen and two buttons that handle all its operations.
There is only one type of nurse-use BP monitors in the Raycome catalog discussed below.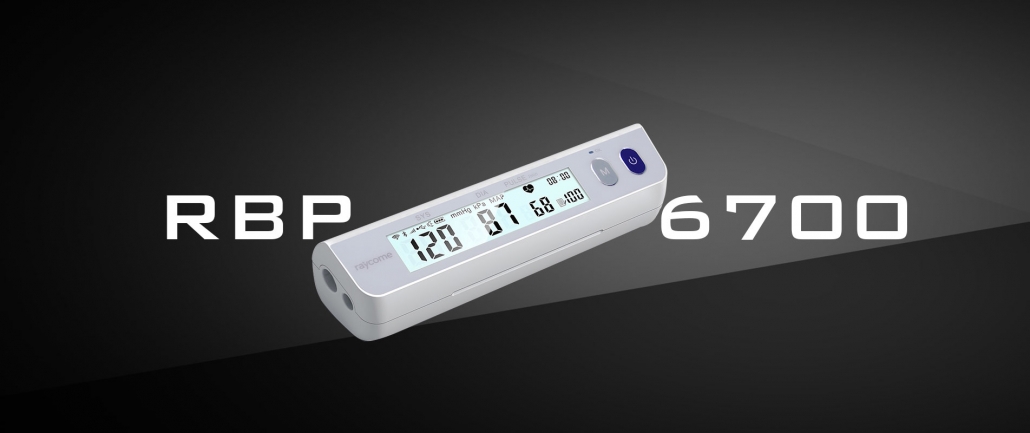 The RBP 6700 is a rectangularly shaped sphygmomanometer that employs the PulseWave technology to get its blood pressure readings. It is equipped with dual-balloon sensors that use upper and lower bags to get data.
The device has the following features;
It is portable, a feature that makes it ideal for nurses who move from one patient to another in the course of their work.
The device is Bluetooth and Cloud service enabled, which makes it compatible with the BP Secretary app.
It has a rechargeable battery that can handle more than 300 uses per charge.
The screen is large and well backlit, which makes the readings more visible even when in a room full of light.
It also comes with a human reminder feature to help people use it correctly.
If there is one thing that technology has done right within the medical field is bringing access to medical devices closer to the patients. Home-use BP monitors have revolutionized how people deal with hypertension. What used to be a process handled only by doctors can be taken care of at home by the patient themselves.
The following are the various types of Raycome's home-use BP monitors;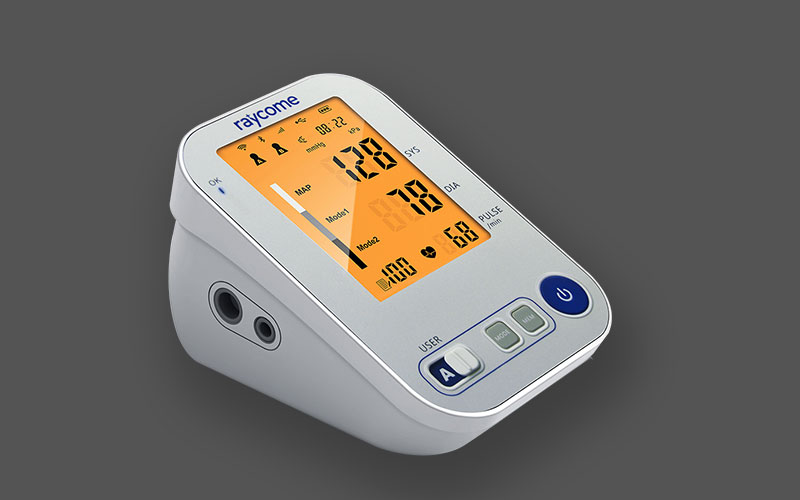 The RBP-9805 is a small digital BP monitor that comes with a large display screen, operational buttons, and charging ports. It makes use of the customary dual-balloon sensor found in other Raycome devices.
The following are some of its features;
It has a two-user design, which means it can be used for two different people in succession as it has the ability to store two sets of data differently.
It has an optional Bluetooth data transfer option.
The large screen is well backlit for easy reading of the data.
It has a wireless transmission feature that connects it to the BP Secretary app seamlessly.
It also has Cloud storage capabilities that eliminate the need for internal memory.
The RBP-88A is a unique wearable blood pressure monitor that is worn on the arm in order to get blood pressure readings. It makes use of PulseWave technology as well as the dual-balloon sensors. It is able to attain accurate readings by continuously measuring the multi-point pressures between pulses.
The device has the following features;
It has a large capacity rechargeable lithium battery that can handle over 120 reading sessions. The battery can be charged to capacity within 2hrs.
It also has wireless transmission it uses to send data to the phone and other devices like computers.
It is portable and can be carried around easily. You can even commute to work with it.
It has a cloud service that gives it ample storage of data.
The biggest challenge in the blood pressure monitors world has always involved hypertension in kids. That area was neglected because, in the past, hypertension was not that common in children. That has changed, and there is a growing need to create a blood pressure monitor for kids.
Raycome has been able to pull ahead of others by coming up with kids-use BP monitors that are safe for children between the ages of 3-12. So far, they have one BP monitor for kids.
The RBP-1200 is a small digital sphygmomanometer that depends on dual-balloons sensor technology to register accurate blood pressure readings in children. Raycome has applied patents for the device in over 40 countries.
The RBP-1200 has the following features;
It is designed with a toylike design to make children more comfortable around it when it is in use.
It has an arm circumference ranging between 15-22cm.
It has a rechargeable lithium battery that can support 300 uses on one charge.
It is Bluetooth enabled and can store up to 200 sets of data in its internal memory.
Why You Should Choose Raycome BP Monitors
There are countless BP devices in the market, each with their own unique devices. However, when it comes down to it, you want to use a device that is not only affordable but reliable and simple enough to understand.
The following are reasons why, as a BP machine company, Raycome is the clear choice for you;
PulseWave Technology has been a game-changer from the moment it was launched by the blood pressure monitor supplier. It has pushed the ability of Raycome devices to excel in ways that other devices in the market dream only of. Technological innovations have improved the blood pressure monitors' accuracy levels without adding any extra cost to the retail prices.
Business with Raycome does not end after you purchase their devices; that only marks the start of a relationship that benefits both the company and the patient. There are follow-ups and after-sales services to ensure that you are satisfied with what you bought. The devices also receive regular updates when the need arises to ensure they work at optimum levels.
The BP Secretary is the official BP monitor app associated with Raycome's digital blood pressure monitors. You can use the app to check blood pressure while it is synced with the BP monitors to allow easy navigation of the devices while increasing the storage range for the data. The app displays the data in more graphical formats more presentable than the BP monitor screens.
Authoritative Endorsements
Raycome devices have been recognized globally as accurate and effective blood pressure monitors. Getting the nod from some of the most respected medical practitioners is very important as it is validation and testament to how good the devices are. If doctors around the world can agree that Raycome monitors are good, then there is no reason to not trust the devices.
FAQs About Raycome BP Monitors
1. What is the most accurate BP monitor for home use?
It is hard to declare which is the best digital blood pressure monitors for home use. The only differences are in their functioning and design. The RBP-9805, for instance, is bigger than either RBP-2400 and RBP-88A. In terms of functionalities, the RBP-88A has a smaller display screen compared to the other two. But as far as the accuracy is concerned, they are all the same and ideal for home use.
2. What should I look for when buying a BP monitor?
When looking for a BP monitor, the first thing you should concern yourself with is the ease of use. Being able to properly operate one is the only way you will get the correct reading. You should also pay attention to the functional features like storage capacity, battery life, portability, and how it interacts with other devices like smartphones and computers.
3. What is normal blood pressure by age?
The expected blood pressure readings by age can be split into eight main age groups;
4. Which is better, manual or digital blood pressure monitor?
A digital blood pressure monitor is relatively better than a manual one. Operating a digital BP monitor is easier and can be handled by any person without any help. It is also easier to read data from a digital monitor as opposed to a manual one that can only be operated and the data recorded by someone who is trained in using them.
5. Which blood pressure monitors do doctors recommend?
In terms of accuracy, the best aneroid sphygmomanometer is the mercury one that is considered the gold standard as it does not need any recalibration when taking readings. However, they can only be operated on by a doctor.
When it comes to ease of use, digital blood pressure monitors are highly recommended as they can be used in any environment by almost anyone.
Raycome continues to advance its technology and innovations further in its bid to conquer hypertension. There are other players in the industry who are also doing their bit to further the cause. The crux of the matter is that hypertension is now a medical crisis worldwide, one that has to be tackled by everyone.
If you want to know more about digital BP monitor devices, do not hesitate to get in touch and have all your questions and concerns addressed.
https://www.raycome.com/wp-content/uploads/2020/11/A-Raycome-BP-Monitor.jpg
500
800
administrator
https://www.raycome.com/wp-content/uploads/2020/02/LOGO.png
administrator
2020-11-11 09:37:13
2021-01-22 01:24:36
Raycome BP Machine: Ultimate Guide