Technology has had a far bigger reach in the medical field, more than what people would love to admit. What used to be inaccessible is now in the hands of millions, with blood pressure monitors taking the crown for one of the most innovative creations. Sphygmomanometer types and brands are many, with each promising out of the world results. What can be said to be a fact is that they do work, with some getting the job done better than others. The following are some of the most accurate Blood Pressure Monitors in the market right now.
Omron Platinum has been one of the most accurate digital blood pressure monitors for years now and continues to perfume even better with every new release. Created by the Omron company that's also home to a number of other blood pressure monitors that are widely used around the world in homes and hospitals.
Much of its accuracy is down, or a technological feature called TruRead, which takes readings from multiple tests then averages them to get a more accurate final result that is displayed clearly on its big screen. The design of the monitor is great, and one can comfortably hold it in their hands as it is not heavy. It is also portable and can be sued even when you are not in the house. On the price range side, it is a bit costly, but when you consider the features, then it could be described as a value device.
It stores about 200 readings and can accommodate an unlimited number of users at the same time. It also comes with a smartphone app that can be synchronized for easier operations and readings.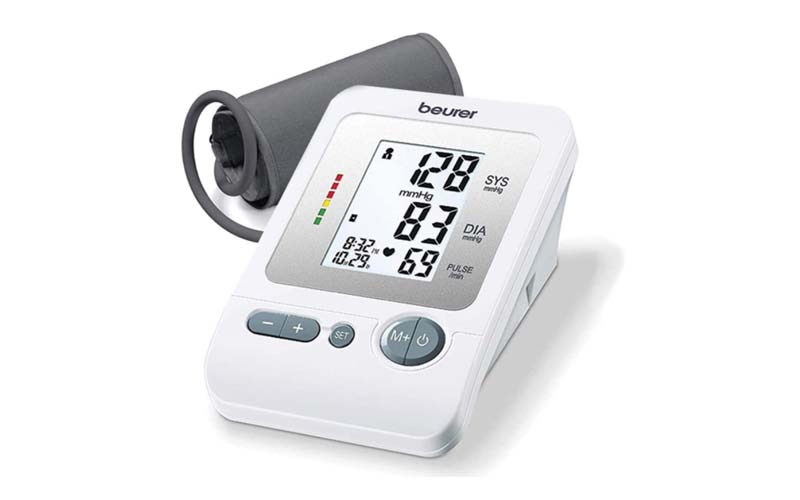 The Beurer BM26 is another small and convenient blood pressure apparatus that is not only cheap but packs some of the features you'd normally find in high-end devices. Priced at about £30, this blood pressure monitor can store readings of up to 4 different users at the same time, with each user getting storage of about 30 readings. It may not sound much, but it still does get the job done. There's always that option of using all four slots for one person, and this gives you an impressive 120 readings.
For better accuracy, the Beurer BM26 collects all the readings you have done in a 24hr period, calculates an average of them all to give you a conclusive report on the state of your blood pressure as accurately as it can. The only drawback to the device is the lack of a backlit display. Otherwise, it is a good buy with good accuracy.
Raycome has been one of the fastest-growing BPM manufacturers, and their habit of creating top of the range products has been instrumental in establishing their name among the best in the sector. The RBP 9805 is a true testament to their continued efficiency.
Making use of the groundbreaking PulseWave Technology, this sphygmomanometer registers some of the most accurate blood pressure readings. The PulseWave technology works a little differently from most of the other devices. Instead of using a single sensor, this digital BP monitor employs a dual-ballon sensor that conducts a continuous measurement of multi-pressure pulses then combines all the measurements into an average score that displays the closest value to the real reading with very little margins of error.
The technology has been so effective that it has already earned some awards despite being around for a short time. There are patents already filed in over 40 countries where the Raycome RBP 9805 is in high demand. It can be synchronized with the native BP Secretary App.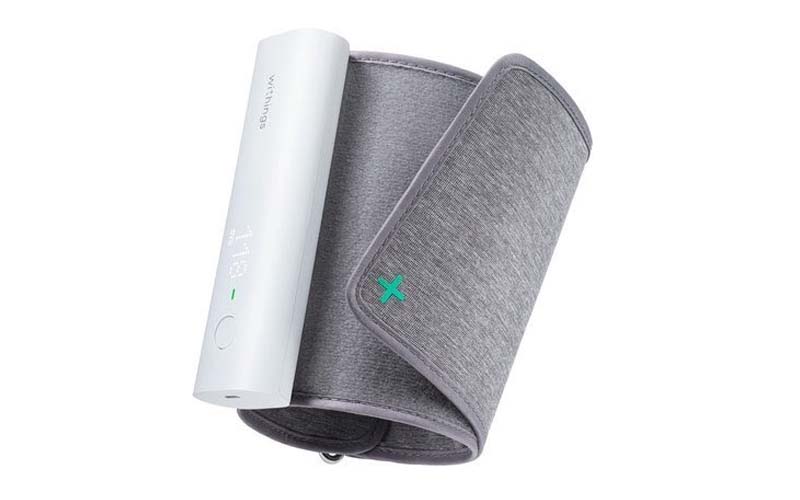 Withings BPM Connect has one of the most interesting designs. It is one of the smallest blood pressure monitors you'll ever come across, a feature that makes it very economical and ideal for people on the move. But don't let the small size fool you into thinking that it lacks in the major features.
To start off, it has a reliable battery that can last for up to 6 months on a single charge, making it the ideal device to carry with you on long travels; you would still be set even if you forget the charger at home. It also comes with Bluetooth and Wi-Fi connectivity, which ensures that readings are shared seamlessly with the mobile app, allowing you to save all your readings to cloud storage. This eliminates the need for internal storage. The cloud data is very secure and can be accessed at any time from any place.
Like most accurate blood pressure monitors, Withings BPM Connect gives the results by taking a number of measurements then doing an average of everything before availing the results through the mobile phone app, storing it in the process.
Generation Guard is an arm blood pressure monitor that rates highly among the best digital blood pressure monitors. It has a very simple design that boasts of a cuff that can be extended to fit just about any size of the arm. It also comes with a sleek backlit screen, which allows the user to see the readings in clear legible fonts.
It has a storage capacity of up to 90 readings and comes with its own set of rechargeable batteries and a carry case for those times where you may need to carry it with you on the road. It is not heavy, and you'll barely feel it in your hands or bag. The adjustable cuff can be made tighter for more accurate readings, and it even comes with a detailed instruction manual to help you understand how to operate it without any outside help.
The accuracy of this device may not be up to par with the Omron and Raycome RBP 9805, but the reading is still decently near to the real thing. As it is always recommended, endure you keep off drinking and smoking before taking any measurements to ensure that you are in the right condition to do that.
LifeSource is another intricately designed and reliable blood pressure monitor that is one of the most versatile and has the best BP cuffs. The company behind it was reasonable enough to create a cuff that can be adjusted well enough to fit even those with the biggest arms around. One of the reasons why most BPMs don't post accurate readings is due to having cuffs that are too tight or too large with no option for making adjustments. LifeSource has been able to find a solution to this problem.
The device is so sensitive that it is able to pick out an irregular heartbeat, notifying you immediately, something that can save your life as irregular heartbeats are precursors to something more serious. LifeSource attains a high accuracy level through its high sensitivity and the averaging of several readings to give a result that has very little margins of errors. It can store up to 60 readings, which is way below many of its peers within the same price range, something that should be improved on.
A digital blood pressure machine designed for home use was designed to reduce those trips to the doctor's office and to give everyone a self-diagnosis tool in their hands that's easy to operate. But they are not doctors, and they don't heal. However, they have to be accurate because wrong information in the medical world can lead to a lot of problems if acted upon as a fact.
An inaccurate reading will lead to a misdiagnosis, which will lead to the patient being prescribed the wrong medicine that will only serve to make an already bad situation worse. This is the reason why every automatic digital blood pressure monitor undergoes rigorous tests to ascertain its accuracies before being released to the consumers. This is also why many blood pressure monitor manufacturers design them to take several readings then find the average, which will be the true representation of what's on the ground.
Are there things you can do to ensure that the readings your blood pressure monitor takes are as accurate as possible? Yes. Some of the activities you can do include the following.
It is evident that getting the most accurate hypertension checking machine is the most important thing to consider when shopping for BPM devices. There are many other models outside this list that have impressive features worth checking out. If you do have any questions and concerns, please contact us at any time, and we will address everything you have on your mind regarding blood pressure monitors.
https://www.raycome.com/wp-content/uploads/2020/12/Doctor-checking-up-on-a-child.jpg
500
800
administrator
https://www.raycome.com/wp-content/uploads/2020/02/LOGO.png
administrator
2021-02-01 12:34:33
2021-02-01 12:40:45
The Most Accurate Blood Pressure Machine